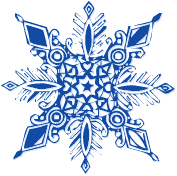 Our Holiday Party is absolutely free with your stay!
Just come hungry, and join us and our friends from around Blue Mountain Lake. You'll meet some wonderful people, and celebrate the joy of the season like never before - we guarantee it. Again, there is no charge whatsoever for this event outside the usual cottage rental. Our only motive is to engender a great time for all of us to enjoy. It's the holidays! Just bring a smile.
What's on the menu?
Mountains of home-cooked foods, orgies of deserts . . .
As always at Prospect Point, this is an all-you-can-eat event!